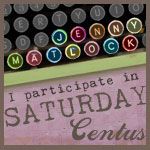 I found
Jenny Matlock's blog
from another blogger who commented on a teacher's blog I'm following and Jenny is doing a weekly writing prompt - called Saturday Centus - the object is to write 100 words, excluding the prompt, of a story, poem, or whatever inspires you. Link back to Jenny's blog and post your story on her Mr. Linky area so that visitors can read all the stories, and then post your story.
I wasn't going to participate because I was having so much fun reading the other people's postings but this just came to me and something said this was the one, so I am sharing this and this may turn into a longer story - something about past lives so maybe in a year or two, you may see this story published or heading for publication. I'm not too big on the title right now as it is really just a thought of a story that may develop later. If you all have any ideas for a title, please feel free to post them here. - see you in the postings - E :)
Unanswered Questions
Geri loved auctions. She never knew what the find of the day was going to be. She enjoyed delving into the past lives of people she could only imagine who had long since passed this way. She had many questions about her past and kept hoping that one day she would find the answers. Today's auction brought many treasures including the chest that seemed older than anything she had ever seen before.
She lifted the stack of letters from the ancient chest
and started reading. The words came so easily putting her in another world with many more unanswered questions. (total word count, including the prompt 100 words)